Home > Cambridgeshire > Cambridge > Little Rose
Little Rose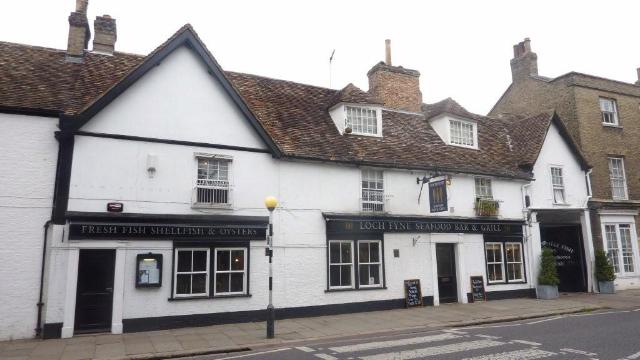 Picture Source: Stephen Harris
---
The Little Rose was situated at 37 Trumpington Street. Established before 1830 it is now used as a Loch Fyne restaurant. The publican in 1916 was Ada Buckworth.
Back in the 1960s Frank was the owner and it was a Green King Pub, my mother was called Paula (came from Germany) and was his girlfriend, I was about 8 or 9 and we lived here. It was a old pub then but it was so very nice. As a kid I remember when the Queen Mum visited Fitzwilliam Museum and I watched her from the bathroom window on the first floor. Lots of students came in on lunch time because there was a cold buffet, relatively cheap but very good. It was also B & B so that when we had nice customers Frank had special hours!!!!
Veronica Reincke (February 2014)
My Grandfather, Harry Bond, was the landlord of The Little Rose, 37 Trumpington Street, Cambridge. I am going back to between 1943 and 1960. Grandfather was a feisty landlord, and would tolerate no nonsense from the students. If there was trouble, he would squirt them with the soda syphon. My mother embroidered a tapestry of signatures .
Susan Gaisford (February 2019)
---
Do you have any anecdotes, historical information or photographs of this pub? Become a contributor and submit them here.
Like this site? Recommend us via the social networking share button on the left hand side of the page, or follow us on
or

Were you a customer, publican or member of staff at this pub? Add your email contact details here and let past regulars get in touch.