» Main Index


» Search This Site


» Submit Pub


» Contact Us


» Support This Site

Home > Kent > Chatham > Upper Bell Inn
Upper Bell Inn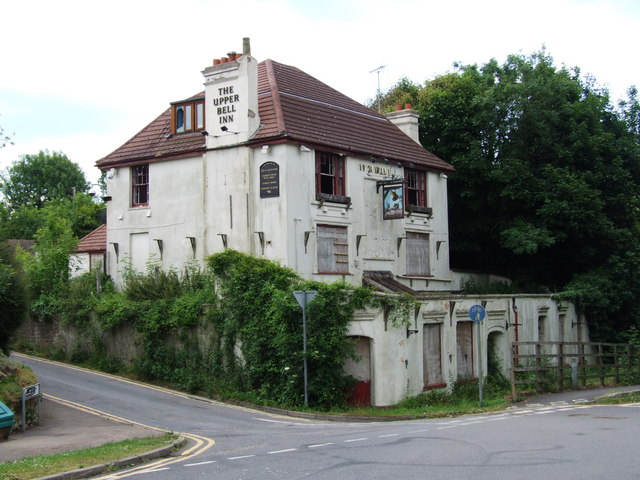 Picture source: Chris
---
The Upper Bell Inn was situated at Blue Bell Hill.
The road past the pub (a slip-lane onto the southbound A229) was closed off in 2003. The pub must have closed fairly soon after the cessation of the through trade (the village had already been bypassed by the A229 from 1983). Certainly it was boarded up in March 2005.
My father, Francis Nettleton le Gassick, MC, Croix de Guerre, was "Mine host" at the Upper Bell from 1923 until 1954. I was born in 1925 and lived there until I left home in 1942. I do not recall a grave in the garden unless it happened after 1954! I have many happy memories living there - and exciting ones during the early years of WW2 with the Battle of Britain around us. It is very sad to see that the building is now in such a poor state.
Lt Col (Retd) C.N. (Sandy) le Gassick, MBE
(February 2012)
---
Do you have any anecdotes, historical information or photographs of this pub? Become a contributor and submit them here.
Like this site? Recommend us via the social networking share button on the left hand side of the page, or follow us on
or
Contacts
Were you a customer, publican or member of staff at this pub? Add your email contact details here and let past regulars get in touch.
Name
Dates
Comments
Belinda Bassett
2000-2001

I used to be a bar maid in this pub under the landlord Patrick Thornton, along with my mother, V

ivien (was Walker) Turan

, who was also the head cook. We spent a lovely time working there and we did a happy boys beano to Margate for local customers and came back for a BBQ. It is also a very strange pub with many spooky tales associated with Dick Turpin and has a grave at the bottom of the beer garden.
Other Photos
Date of photo: 2000

Picture source: Sean Tudor

Picture source: Bob Auger