» Main Index


» Search This Site


» Submit Pub


» Contact Us


» Support This Site

Home > Devon > Plymouth > The Unity
The Unity
Picture source: Thumper
---
The Unity
was situated
at 50 Eastlake Street. This pub was closed and demolished in 2004 to make way for the Drakes Circus shopping centre.
The Unity was much-used by the marine students during the 1960's and 1970's due to its proximity to the School of Navigation. When we received the results of our Second Mate's exam, my class adjourned to the "Unity" to celebrate/commiserate. To my amazement, and the amazement of my Instructors, I passed at the first attempt, and at "closing time' walked unsteadily into the night, but confidently into the future
Alan Knight (February 2016)
---
Do you have any anecdotes, historical information or photographs of this pub? Become a contributor and submit them here.
Like this site? Recommend us via the social networking share button on the left hand side of the page, or follow us on
or
Other Photos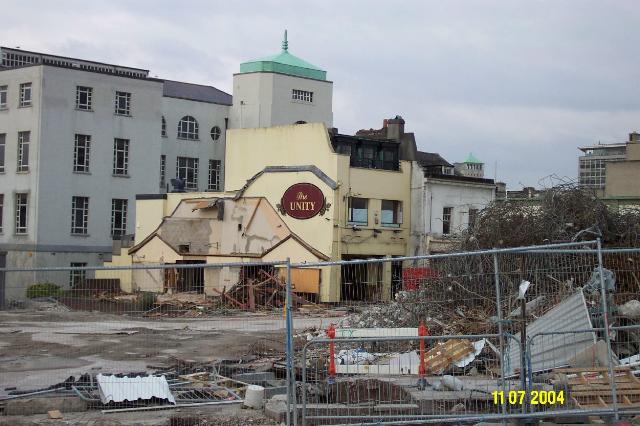 Picture source: Thumper
Contacts
Were you a customer, publican or member of staff at this pub? Add your email contact details here and let past regulars get in touch.
| | | |
| --- | --- | --- |
| Name | Dates | Comments |
| Sylvie Honour | 1974 onwards | Customer |
| Marcus | 1992-1995 | I was the assistant manager at the Unity for three years working for Hilary, the Publican. It was a great pub, with a great atmosphere.Towards the end of the week, in the evenings it got stupidly busy for its size as everyone stopped for a drink on their way into town. Great locals, great staff, great beer, great pub. |
| Simon Cloke | 1970s | I spent many evenings in the Unity and afternoons, and ...... I also worked behind the bar. It was always a good place to meet, go to the Barbican, Poly, Guildhall, where ever and meet again, and then...happy days. |