Home > Lancashire > Blackburn > Courts Hotel
Courts Hotel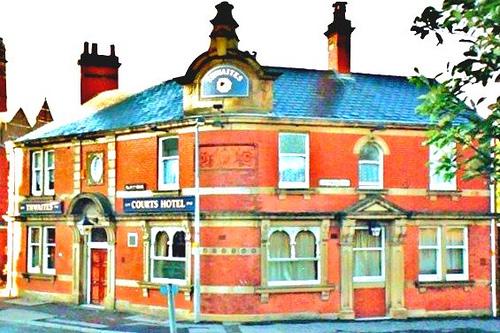 Picture source: Colin Pritt
---
The Courts Hotel has now been demolished following closure in 2000.
This pub was purchased by the college and used for admin. One of last landlords (c. 1973) was a chap called Gemmel. He had three sons, Peter, Andy, Ian and a daughter, Susan. Lovely folk.
Art Wade
My parents, Marie and Norman Berry, had this pub for just over 13 years from around 1971. Both are now deceased. I used to work in the pub and also my late departed sister Althea worked there too.
Sharon Pemberton
I was at Blackburn College between 81 and 83. The pub was immediately next to our prefab classroom, known as "Hut 10". Out of the hut, turn left walk 6 yards, jump over a 5ft wall, turn right and you were at the front door of the pub. I celebrated my 17th or 18th birthday in there in 1982 or 1983 with four pints of bitter. I didn't learn much at College that afternoon…
Greg Schofield (April 2015)
---
Do you have any anecdotes, historical information, updates or photographs of this pub? Become a contributor by submitting them here. Like this site? Follow us on
or

Were you a customer, publican or member of staff at this pub? Add your email contact details here and let past regulars get in touch with you.