Home > London > E1 > Hayfield Tavern
Hayfield Tavern
Picture source: Stephen Harris
---
The Hayfield Tavern was situated at 158 Mile End Road.

This pub was established by the seventeenth century and served as the

brewery

tap for the Charrington's Brewery, which stood across the road. In 1970 it was renamed the

Pearly Queen

and became something of a Cockney theme pub. Things were back to normal by 1978 and it continued as the Hayfield Tavern until the early 2000s when it was disastrously incorporated into the 'It's

a

Scream'

chain of theme pubs, due to its proximity to Queen Mary College. Momentarily trendy, it soon lost its fleeting customers and after a short-lived

attempt at reversion to traditional pub values it closed in 2009. In 2010 it has reopened as a restaurant called 'Hayfield Masala'.
I managed The Hayfield Tavern 1981 to 1982 for Charringtons. I remember opening a bistro type restaurant to appeal to the city types at lunch and also trying to lure the changing population of the area for evening trade. There was a small meeting/function room upstairs and memorably during the Christmas period of 1981 the fire brigade had to called to prevent a fire in the kitchen. Smoke damage closed this facility for many months.We managed to successfully introduce 'real ale' which was surprisingly not available before this date, being directly opposite Charringtons head Office. The public bar was typical of the area, and frequented by locals who had witnessed 'all' the changes over the years and plenty of would be publicans!
Michael Wilson (January 2013)
I used to work for Charringtons Anchor brewery opposite the Hayfield from 1964-1972 during the short term it was the Pearly Queen which did not go down well with most people! It was a lovely pub and especially busy at lunchtime when the people who worked in the Brewery would go there for lunch and a drink, which I always found amusing because all the offices had bottles of Toby Ale delivered for consumption while working! Incidentally I worked in the Personnel Dept. after being in the Boys Training Scheme.
Nigel Bilson (April 2021)
---
Do you have any anecdotes, historical information, updates or photographs of this pub? Become a contributor by submitting them here. Like this site? Follow us on
or
Contacts
Were you a customer, publican or member of staff at this pub? Display your email contact details on this page by adding them here and let past regulars get in touch with you.
| | | |
| --- | --- | --- |
| Name | Dates | Comments |
| Sue Dartnell | 1966 | My uncle ran this pub and when my brother and I were young, we spent many hours playing there. I remember the 'dumb waiter' and going up onto the roof. Uncle had a dog named Toby and a very noisy mynah bird. My dad frequently drove down from Northampton to help at functions. We are very lucky to have such wonderful memories, it was a beautiful, busy place. |
| Mike Buckley | 1966 | Barman. |
Other Photos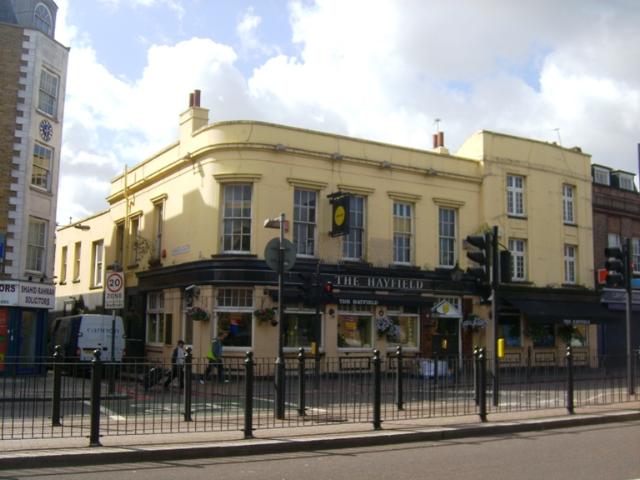 Picture source: Darkstar