Home > London > SE18 > The Star
The Star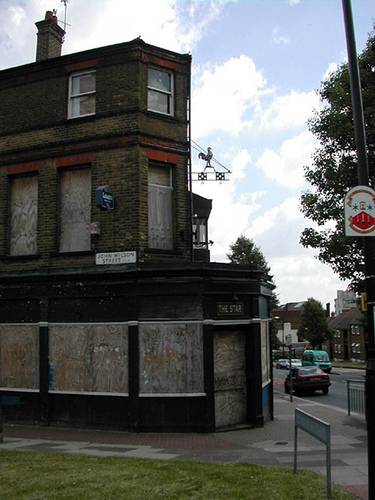 Picture source: Chris Amies
---
The Star was situated on Wellington Street. This pub closed in 2002 following a planning application to demolish it and replace with housing.
Having grown up in Woolwich, I was always going to be a customer in one of the old school pubs.
The Star passed through many managers hands over the years I lived in the area and as far as I'm aware the last managers were Kevin and Jenny. Their daughter lived in the family run pub too which gave the pub itself a family feel. It was very quiet and sold alternative beers to the surounding pubs at the time ie. .Labbatts and Caffreys etc.
Kevin and Jenny did pretty much everything humanly possible to get it buzzing including pool and darts teams, discos and free sea food, although they were a lovely couple they were very limited as to what they could do there as it was owned by a company.
I can honestly say that in all the time i drank there it was like a second home and everyone was always made to feel welcome.
In the 1990's the army moved back into Woolwich Barracks and while many pubs refused to serve the soldiers, the Star took them in and the pub became "the" place to go. I could count the times there was any trouble on one hand and thats over a good few years. It was just a great place to be. I used to spend many hours practicing pool there and they'd open up early so i could get in earlier.
As publicans go, they were probably the nicest I've ever known and its a shame they weren't given more freedom to make the changes it needed.
Rick Carver (August 2012)
---
Do you have any anecdotes, historical information, updates or photographs of this pub? Become a contributor by submitting them here. Like this site? Follow us on
or

Were you a customer, publican or member of staff at this pub? Add your email contact details here and let past regulars get in touch with you.